The weather was forecast to be rainy and overcast on July 11, 2020, but it didn't matter a bit to four motivated River City Grotto Members. We were out and headed underground!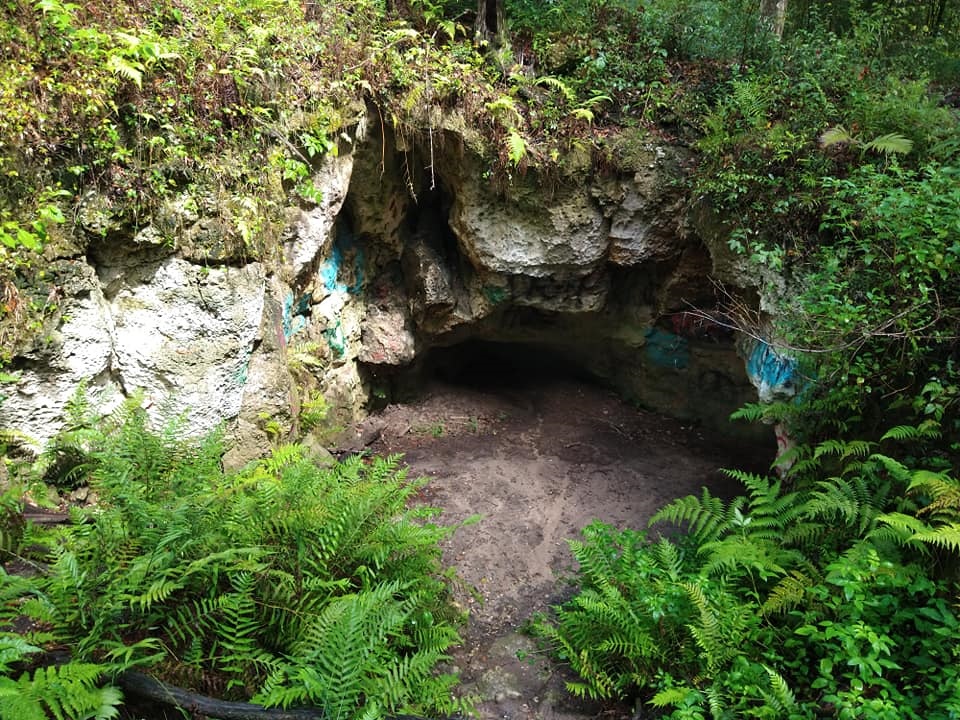 BACKGROUND:
Carrie had talked with Lance Elder at some point about a cave that he owned named Crumbling Rock. Carrie set up a trip. Previously there was interest in visiting the Withlacoochee Caves. Since Withlacoochee caves were close to Crumbling Rock, we decided it would be nice to visit all of them on the same day. There was excitement at the meeting about visiting multiple caves in a day. However, maybe due to the early departure time, long three hour drive or terrible rainy weather forecast, only four decided to go.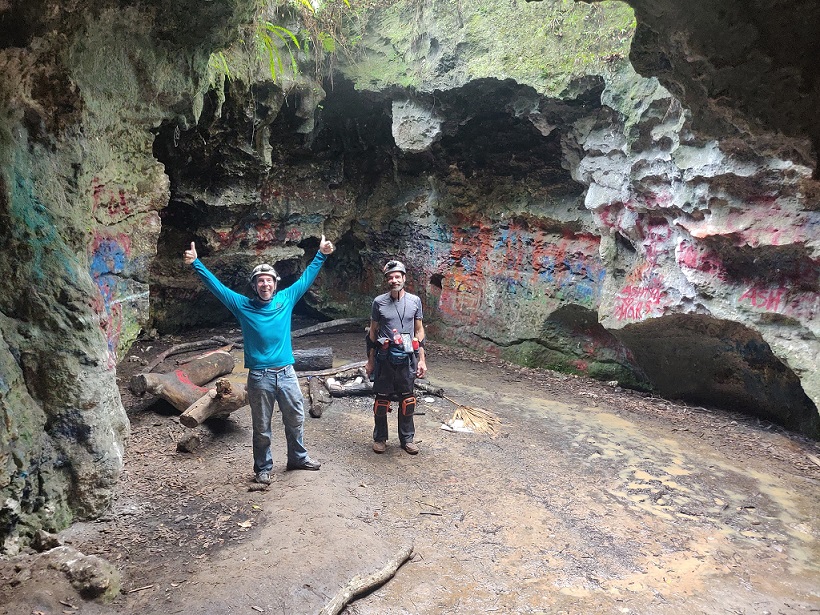 FIRST CAVES:
The Withlacoochee cave system is well known by locals, and is heavily visited. There are several small caves that one can easily pop into and out of in a short time. These are geologically some of the oldest caves in Florida and very interesting. The hike back into the cave area is also a beautiful walk, with sinkholes in the Florida slash pine scrub. We visited all the favorites; Dr. Dames, Sick Bat, Girl Scout, and a few that aren't named.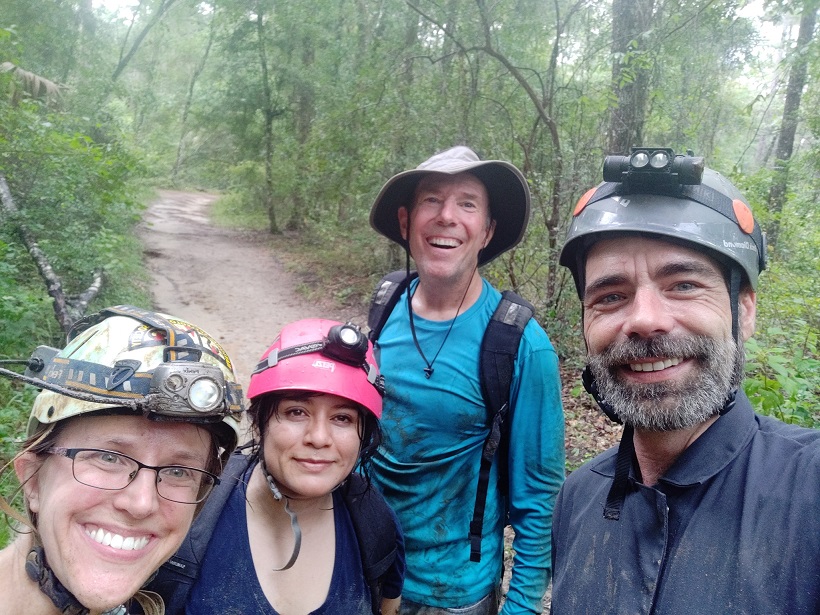 RANT:
If you're reading this and wonder where all these cool caves are, you may notice we don't advertise specific locations. We love visiting caves and we all love to take others, but don't always trust giving cave locations out. We want to make sure each cave is protected and remains in a natural state.
The main reason we don't advertise location is safety. Caving can be dangerous, and has had a bad reputation due to people getting lost, hurt, and even killed. When the National Speleological Society (NSS) was started, they suggested local grottos enforce training programs. We (River City Grotto) take new people on trips and train them as we cave. This 'group training system' has reduced caving accidents dramatically and makes it more fun.
The other reason is vandalism. No one likes their property vandalized. Caves are still a prime target for vandalism. What would you do if you came out to your car to find a name or picture scratched or painted on the door? What if you left your window down a little and someone threw a bunch of trash like leftover food, beer cans, and cigarette butts inside your clean interior. Think about it, because that happens to caves a lot. Many are on private property or state property. They are not on the vandal's property. Vandals need to vandalize their own cars, or property instead of property that others enjoy.
The Withlacoochee caves get a LOT of cleanup attention from cavers, and it would be a lot worse if it wasn't cleaned on a regular basis. As you look at the photos above, look at the vandalism. This is why cavers do not give out cave locations.
When visiting the Withlachooche Caves, we are reminded that not everyone loves the environment. Cavers are environmentally friendly which means no trash, no writing names or obscenities on walls, no removing fossils or formations. A good caver moto is "Take nothing but pictures, leave nothing but footprints".
CRUMBLING ROCK:
After a quick lunch we drove over to the Crumbing rock property to meet Lance and Mike who were mowing the lawn, trimming and taking care of the quarry.
Crumbling Rock is in fact a very solid cave in a beautiful old quarry. The name is a pun from Tumbling Rock up in Alabama. The Tampa Bay Grotto (TBAG) has spent a lot of hours assisting Lance (the owner) cleaning, preserving, and protecting the property. Crumbling Rock has fissures (Vertical passage mostly half filled with water) and Bedding Planes, (horizontal passage). It goes from one to the other throughout the cave. If you get to the back area, there are many formations that are black. These formations are calcium carbonate, like other formations, but have turned black due to high manganese in the water. Some formations have started forming outside of the black and make white stripes on the outside. This is an awesome and interesting cave. It is so nice of Lance to have spent so much effort protecting this gem and also allowing our group to visit.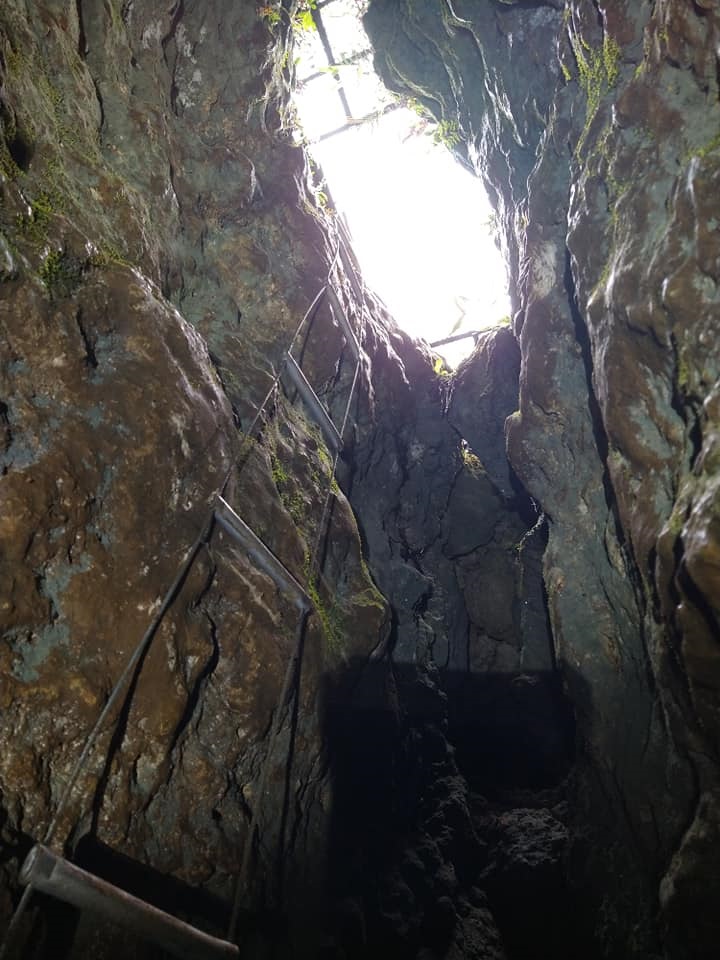 Story by Philip Walker.